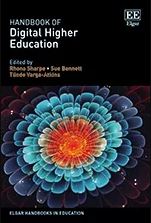 This chapter focuses on the creative risk taking involved in educational design and is an exciting collaboration between DER member Prof Michael Henderson and 12 senior Educational Designers embedded centrally and within 9 Faculties.
Educational designers regularly engage in a process of creative risk taking. Inevitably, some designs result in degrees of failure, which need to be productively managed. Surprisingly, creative risk taking and productive failures are rarely discussed or studied in the field of educational design or educational technology.
Through the analysis of educational designer narratives we identified that there is a broad aversion to openly acknowledging the risks and failures. This was partly due to a drive for narratives of success by institutions and education in general, combined with the often precarious positions of the designers themselves who work in a "third space" beside and between educators and students and who therefore have to establish and sustain the trust of those who they work with.
In this chapter and our subsequent work we have identified seven strategies for educational designers and institutional leaders to promote changes in practice:
Normalize failure: acknowledge failures in every creative success; actively create time to reflect on practice as a habit; leaders at all levels to role model productive framing of failure.
Recognize the emotional labour of failure and vulnerability in engaging with it: acknowledge that it is hard to talk about failure; leaders need to show vulnerability and role model this too; embed emotional intelligence in reflective practice; recognize that educators are often in vulnerable positions as well, feeling at risk in revealing themselves to educational designers.
Involve others and resist internalising failure: include educators, students and other diverse perspectives in the design and reflection cycles; adopt or build a supportive community that engenders the sharing of vulnerability and candour.
Position failure as part of a process: adopt a designerly mindset – finding solutions is an ongoing cycle of design and redesign; define the role of educational design as a creative endeavour, in which failure is explicitly framed as a possibility.
Purposefully build trusting and candid relationships over time: encourage candour through adopting a welcoming and accepting approach to problems, needs and concerns.
Question the validity of success criteria: leaders at all levels need to be critical of measures of successful educational design such as grade outcomes and student satisfaction which are usually confounded with competing factors.
Revise the language surrounding the work of educational design: leaders need to frame the position descriptions, strategic directions and outcome expectations to include concepts of iteration, experimentation, trialling, prototyping and productive failure.
This study reveals that failure is both an inherent risk in creative educational design work, but failure can also be productive.
Below is a poster presentation of our research – offering the seven strategies themtically organised into three themes of strategic action: shaping expectations, redefining processes, and supporting people..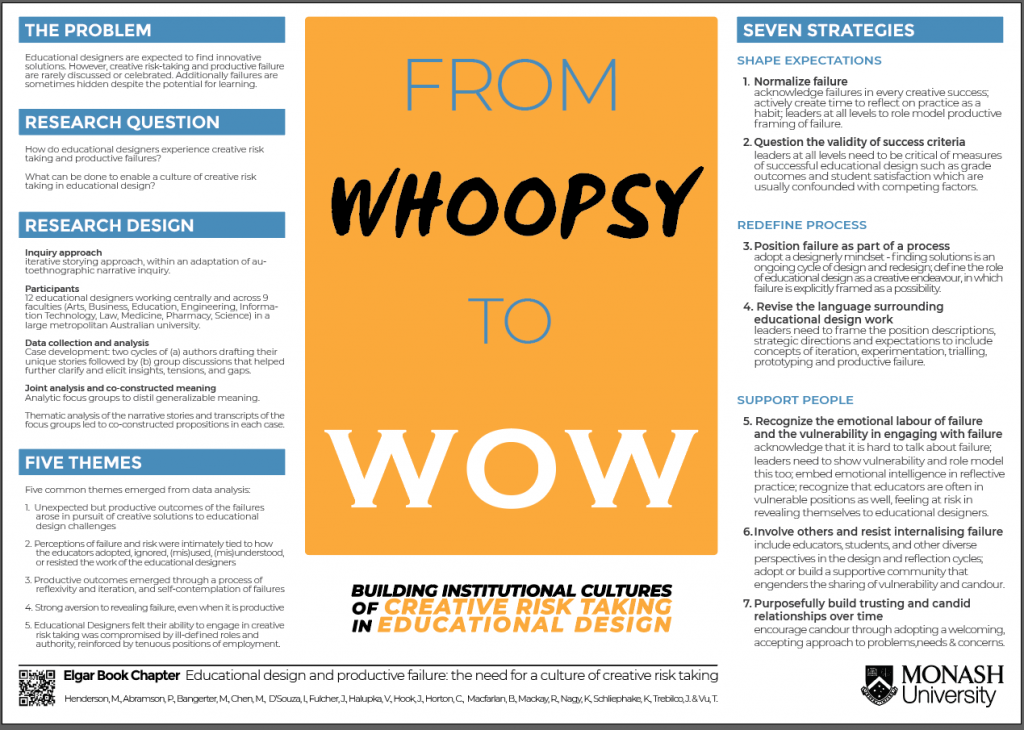 Citation:
Henderson, M., Abramson, P., Bangerter, M., Chen, M., D'Souza, I., Fulcher, J., Halupka, V., Hook, J., Horton, C., Macfarlan, B., Mackay, R., Nagy, K., Schliephake, K., Trebilco, J. & Vu, T. (2022). Educational design and productive failure: the need for a culture of creative risk taking. In Handbook of Digital Higher Education (pp. 14-25). Edward Elgar Publishing. https://doi.org/10.4337/9781800888494.00011